Clin Res Cardiol (2023). https://doi.org/10.1007/s00392-023-02180-w


1-year outcomes according to etiology after transcatheter mitral valve repair with a novel leaflet-based valve repair system – a German Multicenter Experience
P. von Stein1, C. Besler2, M. Riebisch3, O. Al-Hammadi4, T. Ruf5, M. Gercek6, C. Grothusen7, M. Mehr8, M. U. Becher9, K. Friedrichs10, C. Öztürk11, S. Baldus12, T. Rassaf3, H. Thiele2, G. Nickenig11, J. Hausleiter8, H. Möllmann7, V. Rudolph6, R. S. von Bardeleben13, H. Nef4, P. Lüdike3, P. Lurz2, R. Pfister1, V. Mauri1
1Klinik III für Innere Medizin, Herzzentrum der Universität zu Köln, Köln; 2Klinik für Innere Medizin/Kardiologie, Herzzentrum Leipzig - Universität Leipzig, Leipzig; 3Klinik für Kardiologie und Angiologie, Universitätsklinikum Essen, Essen; 4Medizinische Klinik I - Kardiologie und Angiologie, Universitätsklinikum Gießen und Marburg GmbH, Gießen; 5Kardiologie 1, Zentrum für Kardiologie, Universitätsmedizin der Johannes Gutenberg-Universität Mainz, Mainz; 6Allgemeine und Interventionelle Kardiologie/Angiologie, Herz- und Diabeteszentrum NRW, Bad Oeynhausen; 7Klinik für Innere Medizin I, Kath. St. Paulus Gesellschaft, Dortmund; 8Medizinische Klinik und Poliklinik I, LMU Klinikum der Universität München, München; 9Klinik für Kardiologie und internistische Intensivmedizin, Städt. Klinikum Solingen gGmbH, Solingen; 10Klinik für Kardiologie, Herz- und Diabeteszentrum NRW, Bad Oeynhausen; 11Medizinische Klinik und Poliklinik II, Universitätsklinikum Bonn, Bonn; 12Klinik für Kardiologie, Angiologie, Pneumologie und Internistische Intensivmedizin, Herzzentrum der Universität zu Köln, Köln; 13Zentrum für Kardiologie im Herz- und Gefäßzentrum, Universitätsmedizin der Johannes Gutenberg-Universität Mainz, Mainz;
Background
Mitral regurgitation (MR) is one of the most prevalent valvular heart diseases with poor prognosis when left untreated. The introduction of the PASCAL transcatheter valve repair system has broadened the armamentarium of transcatheter mitral valve repair. We previously reported procedural and 30-day outcomes of an early multicenter all-comers patient cohort. The present study reports 1-year outcomes and an analysis by MR etiology.
Methods
282 patients with symptomatic 3+/4+ MR were treated with the PASCAL repair system at 9 sites in Germany. Clinical endpoints were reported according to the MVARC consensus. "Treatment failure" at 1 year was defined as a composite of aborted procedure without PASCAL implantation, all-cause death, valve related reintervention or worsening of NYHA class of at least 1 grade. Results are reported for all patients and according to etiology, i.e., for degenerative MR (DMR), functional MR (FMR) and degenerative/functional mixed MR (MMR).
Results
282 patients (mean age 77±10 years, 43% female, EuroSCORE II 5.5±4.6%) were included in this study. 92, 141 and 49 patients were treated for DMR, FMR and MMR, respectively. Median follow-up time was 365 days. Technical success was achieved in 95.7% of DMR, 97.2% of FMR and 98.0% of MMR patients (P=0.817). The incidence of MAE at 30 days was 4.3% (DMR), 4.3% (FMR) and 4.1% (MMR), showing no differences between MR etiologies (P=1.000). Estimated Kaplan-Meier 30-day-mortality was 2% and did not differ for DMR (2.3%), FMR (1.5%) and MMR (2.2%), P=0.950. Overall estimated 1-year-mortality was 15% and was 9%, 16% and 23% (P=0.110) for DMR, FMR and MMR, respectively. Estimated freedom from heart failure rehospitalization was 74% and was highest in DMR patients (80%) and lowest in MMR patients (72%). Single leaflet device attachment (SLDA) occurred in 6 patients (2.1%). 5 of those occurred in DMR patients, 1 occurred in a FMR patient and no patients with MMR had a SLDA (P=0.033). 7 patients (3.2%) underwent valve-related re-intervention, of which 6 were performed in DMR patients and 1 in a FMR patient (P=0.010). NYHA functional class improved significantly with 70.8% and 64.8% of patients being in class I or II at 30-days and 1-year follow-up (paired P<0.001), respectively. NYHA functional class did not differ between etiologies (P=0.385). At 1-year, degree of MR was ≤2+ in 89.6% of patients (DMR 78.2%, FMR 95.9%, MMR 90.6%; P=0.003). Median transmitral gradient was 3 mmHg at 1-year follow-up and was highest in DMR patients. Treatment failure at 1-year occurred in 21.3% and was not significantly different between MR etiologies (P=0.154).
Conclusion
Transcatheter mitral valve repair with the PASCAL system was associated with sustained MR reduction, low complication rates and improvement in functional status at 1-year follow-up in this large all-comers patient cohort. Technical failure was more common in DMR patients, which raises the need to uncover possible predictors of poor technical outcome in order to identify appropriate patients for treatment.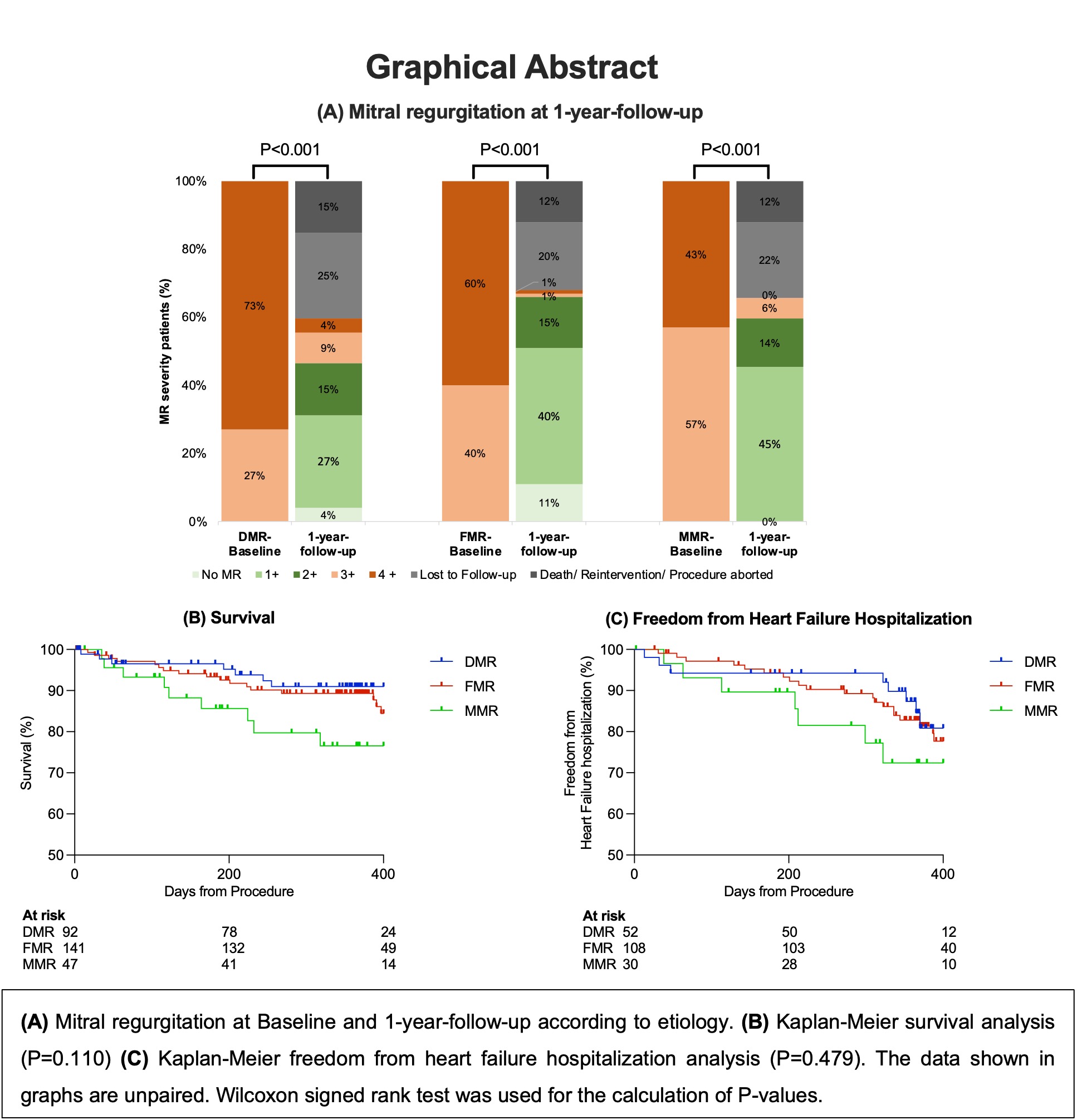 ---
https://dgk.org/kongress_programme/jt2023/aV1631.html